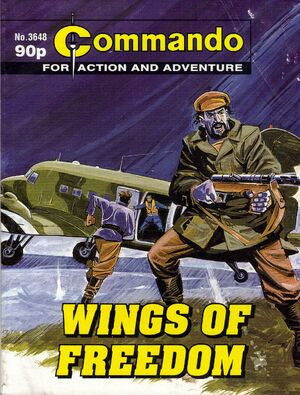 Back Cover Summary
Edit
The Second World War was over but this Dakota was in trouble, smoke flaring from the engines. The rest of the crew had bailed out and only the pilot was still aboard, struggling to land it level and in one piece.
But whatever trouble he had in the air, it was much worse below. A savage guerrilla war was raging between the partisans and the Soviet troops occupying the region . . . and he was heading right into the middle of it!
Creators
Edit
Publishing History
Edit
First published as no 3648 in August 2003.
New story. Not previously published.
Inside cover feature Test Flights, Experimental Aircraft: Henschel Hs 130E-0
Inside Back cover feature. The Commando File Part 18 - 1983.
Ad blocker interference detected!
Wikia is a free-to-use site that makes money from advertising. We have a modified experience for viewers using ad blockers

Wikia is not accessible if you've made further modifications. Remove the custom ad blocker rule(s) and the page will load as expected.