Back Cover Summary
Edit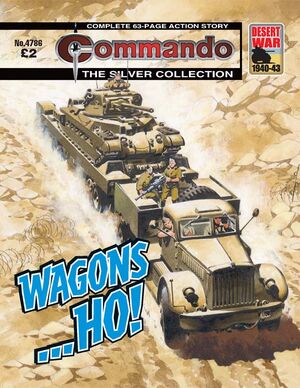 There was only one thing that Sergeant Jack Brett and his Matilda tank crew hated as much as the Germans, and that was a certain tank transporter crew from the Royal Army Service Corps. When they weren't fighting the one, they were fighting the other. And so, when all three met on the Egyptian desert, it meant trouble.
But the handful of British soldiers had a big, big problem - they had to stop the advance of a huge German column…with their single damaged Matilda and that one tank transporter!
Story by Lomas
Art by Ibanez
Cover by Ian Kennedy
Publishing History
Edit
First published as no 1050 in July 1976. Republished as no 2411 in December 1990. Latest edition published as no 4786 in February 2015.
Part of "The Silver Collection" series.
Ad blocker interference detected!
Wikia is a free-to-use site that makes money from advertising. We have a modified experience for viewers using ad blockers

Wikia is not accessible if you've made further modifications. Remove the custom ad blocker rule(s) and the page will load as expected.