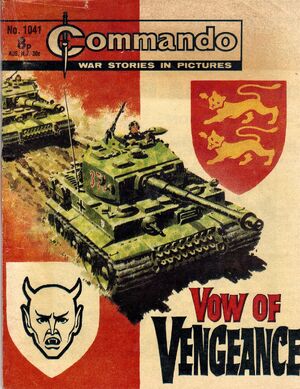 Back Cover Summary
Edit
Two shields - one the arms of a noble family of France, the other the badge of a fanatical Nazi tank unit. Fate decreed they would be set against each other on the war-torn soil of France in a final duel like a Knights' tournament of old. But instead of battle-chargers and sharp-pointed lances the combatants had other weapons. The devil's head was backed up by 56-ton Tiger tanks, while the men who bore the golden lions were beginning to believe they had a power that come from beyond the grave itself...
Story by
Art by
Cover by Ian Kennedy
Publishing History
Edit
First published as no 1041 in June 1976.
Inside front cover feature - Fighting Squadrons of the R.A.F. - 21 Squadron. Inside rear cover feature - Know Your Medals no 5 The Air Force Medal.
Ad blocker interference detected!
Wikia is a free-to-use site that makes money from advertising. We have a modified experience for viewers using ad blockers

Wikia is not accessible if you've made further modifications. Remove the custom ad blocker rule(s) and the page will load as expected.