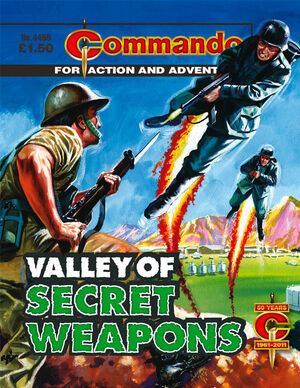 Back Cover Summary
Edit
The Valley of Destruction, the Germans called it. It lay deep in the heart of the Tyrolean mountains, and there Germany's most brilliant scientists worked night and day building Hitler's deadly "V for Vengeance" weapons.
Sun-ray cannons, flying saucers, sound cannons, rocket-propelled tanks and jet-propelled soldiers - strange, terrifying weapons, years ahead of their time.
They were all there in that valley, being made ready to unleash on Britain.
Publishing History
Edit
Published December 1963 as issue 98. Republished October 1971 as issue 591. Republished December 2011 as issue 4455.
Ad blocker interference detected!
Wikia is a free-to-use site that makes money from advertising. We have a modified experience for viewers using ad blockers

Wikia is not accessible if you've made further modifications. Remove the custom ad blocker rule(s) and the page will load as expected.