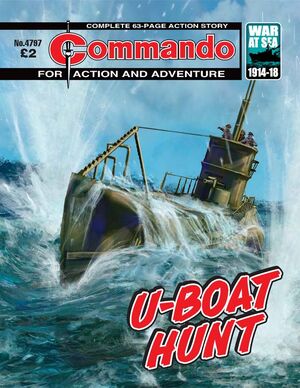 Back Cover Summary
Edit
After Royal Navy Lieutenant-Commander Robert Paterson lost his ship, his crew - and very nearly his life - to a prowling U-Boat in the Atlantic, he became obsessed with finding the enemy sub responsible.
Robert was given command of a Q-Ship - a vessel that looked like a merchantman but was fitted with concealed guns that would destroy any U-boat that came in range.
It seemed Robert might have his revenge!
Story by Bill Styles
Art by Jaume Forns
Cover by Janek Matysiak
Publishing History
Edit
First published as no 4797 in March 2015.
Inside front cover feature - Tank Killers. Part 3 Panzerfaust (Germany) Art by Gordon Livingstone.
Ad blocker interference detected!
Wikia is a free-to-use site that makes money from advertising. We have a modified experience for viewers using ad blockers

Wikia is not accessible if you've made further modifications. Remove the custom ad blocker rule(s) and the page will load as expected.