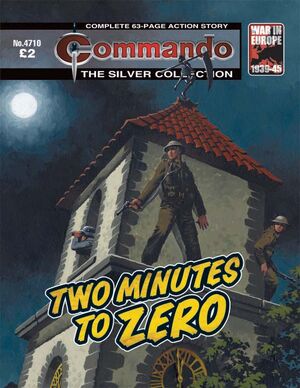 Back Cover Summary
Edit
The French village church lay bathed in the rays of a watery moon. The pale light threw black, gloomy shadows which hid the stealthy forms of two British soldiers grimly inching their way up to the roof. One slip meant disaster - not only because of the height but because the church was full of Nazis!
Creators
Edit
Story by - Alan Lomas
Art by - Pat Wright 
Cover by - Ian Kennedy 
Publishing History
Edit
First published as no 937 in May 1975. Republished as no 2267 in April 1989. Latest edition published as 4710 in May 2014.
Part of "The Silver Collection" series.