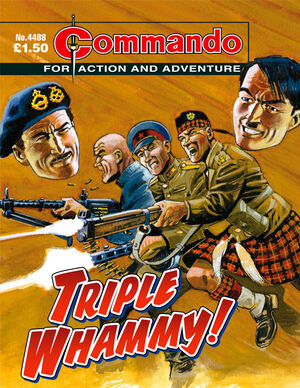 Back Cover Summary
Edit
Remember the antics of Hitler and Monty…? Or to give them their proper names, Fuhrer and Field-Marshal lookalikes Max Singer and Sid O'Brien. Well, they're back for another madcap (mis)adventure- this time involving the SS, Soviets, Scotsmen and even Scousers in South America. Don't worry, it'll all make sense…probably.
Our death-defying doubles are in triple the danger and triple the trouble. But will this be their finest hour, or their final fling…?
Publishing History
Edit
Published April 2012 as issue 4488.
Ad blocker interference detected!
Wikia is a free-to-use site that makes money from advertising. We have a modified experience for viewers using ad blockers

Wikia is not accessible if you've made further modifications. Remove the custom ad blocker rule(s) and the page will load as expected.