Back Cover Summary
Edit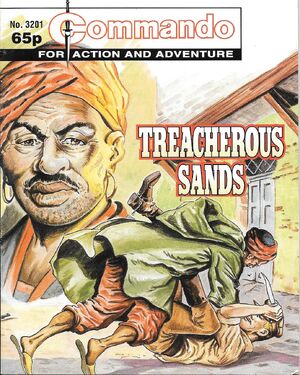 In 1941, Syria was a prize the British were desperate to win. It was controlled by pro-German Vichy French and that meant a mixed bag to deal with - including French colonial soldiers.
There were also those of the enemy who dressed as local tribesmen. The war they waged was just about as treacherous as the shifting sands of the deadly desert...
Publishing History
Edit
First published as no 3201 in December 1998.
Inside front cover feature - Frontline - Self Propelled Guns - SdKfz 165 Hummel (Art by Gordon Livingstone) Inside read cover feature - Whirly Birds - Sikorsky HH-60A Night Hawk USA 1974. (Art by Ian Kennedy)
Ad blocker interference detected!
Wikia is a free-to-use site that makes money from advertising. We have a modified experience for viewers using ad blockers

Wikia is not accessible if you've made further modifications. Remove the custom ad blocker rule(s) and the page will load as expected.