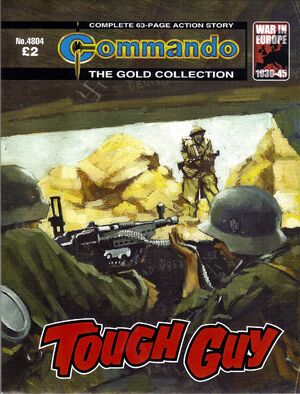 Back Cover Summary
Edit
Joe Brady was as tough as the Liverpool slums that had bred him - and, boy, he could hate!
The many Nazis he met knew the wild ferocity which blazed in his eyes as he swept into battle, but they could tell no one.
For dead men tell no tales.
Story by Kenner
Art by Victor De La Fuente
Cover by Scholler
Publishing History
Edit
First published as no 149 in January 1965. Republished as no 743 in May 1973. Latest edition published as no 4804 in April 2015.
Part of "The Gold Collection" series.
Ad blocker interference detected!
Wikia is a free-to-use site that makes money from advertising. We have a modified experience for viewers using ad blockers

Wikia is not accessible if you've made further modifications. Remove the custom ad blocker rule(s) and the page will load as expected.