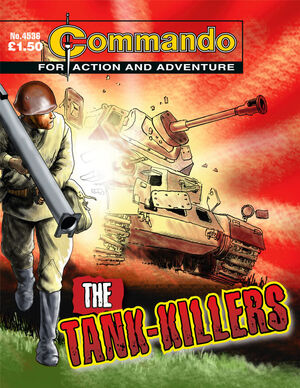 Tank, panzer, char d'assault, tank. Call them what you will, these armoured giants struck fear into all infantrymen who faced them in battle.
Not quite all, though. This is the story of four men brought together by the fates of war who challenged the metal monsters and called themselves…
The Tank-Killers
Story - Stephen Walsh Art and Cover - John Ridgway
Published 27 September 2012 as issue 4536
Ad blocker interference detected!
Wikia is a free-to-use site that makes money from advertising. We have a modified experience for viewers using ad blockers

Wikia is not accessible if you've made further modifications. Remove the custom ad blocker rule(s) and the page will load as expected.