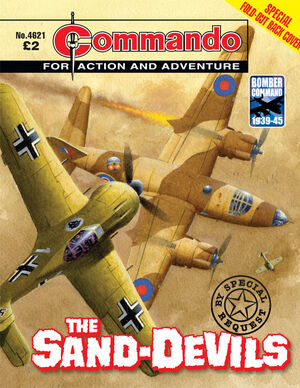 Back Cover Summary
Edit
Dawn broke over the sandy wastes of the North African desert, and the air shuddered with the roar of engines as one by one the sleek Martin Marauder bombers swept into the air.
Each plane was loaded with nearly two tons of bombs, and they were crewed by some of the crack pilots of Bomber Command. The Sand-Devils were on their way again!
Creators
Edit
Story by R.A Montague
Art and cover by Ian Kennedy
Publishing History
Edit
First published as no 32 in April 1974. Latest edition published as no 4621 in July 2013.
Part of "By Special Request" series 2013. Has a new cover to the original 1974 edition.
No 4621 includes:
Special fold out back cover with textless Ian Kennedy cover
Into Action feature featuring the Martin B-26 Marauder
Part 55 of the Commando Collection - January - June 2013.