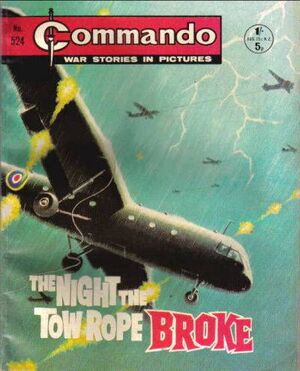 Back Cover Summary
Edit
The night the tow rope broke was the worst in Lieutenant Mike Hasting's life. For when his glider crash-landed off target in Sicily, he was captured by a mad brigand called Il Castello who dragged him off to cave on the side of Mount Etna, the largest volcano in Europe.
And there Il Castello already held an Italian, a German, a Canadian and an American - one man from each of the armies on Sicily who had ruined the brigands old way of life. Now he was ready to punish them in his own cruel way . . .
Story by
Art by
Cover by Ian Kennedy
Publishing History
Edit
First published as no 524 in January 1971. Republished as no 1492 in March 1981.
No 534:
Inside front cover feature - Horsa II Glider.
Inside rear cover feature - Soccer Stars of the World - Gerhard Muller
Ad blocker interference detected!
Wikia is a free-to-use site that makes money from advertising. We have a modified experience for viewers using ad blockers

Wikia is not accessible if you've made further modifications. Remove the custom ad blocker rule(s) and the page will load as expected.