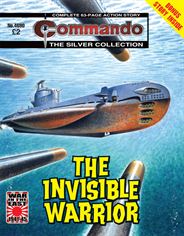 Back page summary
Edit
When four Allied submarines were lost without trace in the same area of the Indian Ocean, the Top Brass believed it was the work of a new Japanese weapon, code-named Namurani.
The remaining sub crews knew different the area was jinxed!
Lieutenant Dan Baxter, commanding the submarineHMS Bluefin, didn't know what to believe until he learned the story of the legendary Japanese Samurai Warlord, Tichibu, and his spirit bodyguard, Namurani - The Invisible Warrior.
Story by R.A Montague, Art by J.M Jorge, Cover by Jeff Bevan.
Back up strip - V for Vengance Part Three
Edit
A classic, hard-hitting story war story from the "Boys' Papers" of the 1950s.
Publishing History
Edit
First Published  as 2306 (August 1989), reissued as 3868 (December 2005), issued as 4690 (March 2014)
Ad blocker interference detected!
Wikia is a free-to-use site that makes money from advertising. We have a modified experience for viewers using ad blockers

Wikia is not accessible if you've made further modifications. Remove the custom ad blocker rule(s) and the page will load as expected.