Back Cover Summary
Edit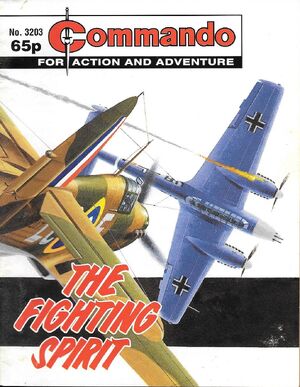 Don Danver spun his Hurricane through the air and roared in to attack, the white silk scarf wrapped around his neck. It had brought his father luck in the First World War, so it would serve him equally well as Britain and Germany clashed once more. Or so he thought...
Creators
Edit
Publishing History
Edit
First published as no 1903 in June 1985. Republished as no 3203 in January 1999.
No. 1903:
Inside front cover feature: Stars of Athletics - Ade Mafe
Inside rear cover feature: Stars of Tennis - Anders Jarryd
No. 3203
Inside front cover feature: Frontline - Self Propelled Guns - Bishop UK (Art by Gordon Livingstone)
Inside rear cover feature: Commando File part 33 - 1998.
Ad blocker interference detected!
Wikia is a free-to-use site that makes money from advertising. We have a modified experience for viewers using ad blockers

Wikia is not accessible if you've made further modifications. Remove the custom ad blocker rule(s) and the page will load as expected.