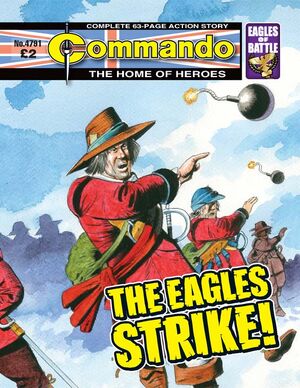 Back Cover Summary
Edit
The mid-17th Century would turn out to the most turbulent time in England's already tempestuous history. In summer 1642, a full-scale civil war erupted between the armies of the Royalist "Cavalier" and the Parliamentary "Roundheads."
Even the village of Teverton in the far south-west of Britain was caught up in the strife, and a centuries-old feud between a trio of families was re-ignited by the spark of war. Things looked bleak as Englishmen battled fellow Englishman…
Story by Ferg Handley
Art and cover by Keith Page
Publishing History
Edit
First published as no 4791 in March 2015.
Part of the "Eagles of Battle" Series.