Back Cover Summary
Edit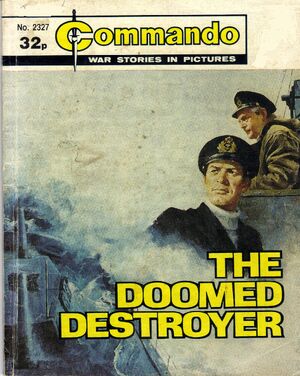 Royal Navy ships don't depend on luck - good or bad. Yet H.M.S Ancaster was a jinx ship. New skipper Rod Barkins was determined that all this would be changed by hard training and Naval discipline. The man to carry it out was the First Lieutenant, Bill Blyth - an officer with a secret that threatened the Ancasater and everyone on board.
Creators
Edit
Story by -
Art by - Denis McLoughlin
Cover by - Haylock
Publishing History
Edit
First published as no 2327 in November 1989.
Inside front cover feature - Key to the Cockpits - No 5 Messerschmitt 110
Ad blocker interference detected!
Wikia is a free-to-use site that makes money from advertising. We have a modified experience for viewers using ad blockers

Wikia is not accessible if you've made further modifications. Remove the custom ad blocker rule(s) and the page will load as expected.