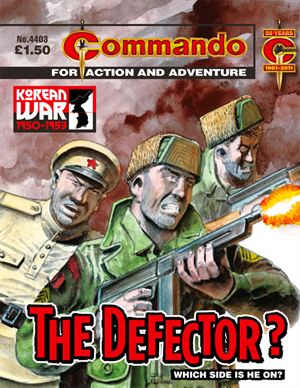 Back Cover Summary
Edit
Lieutenant Levka Kosilev was a man of principle, a man who would repay a debt of honour. The Russian officer had only survived the dark days of World War II thanks to the actions of a brave American corporal and his squad. He knew how much he owed them.
Some years later Levka - now an observer with the forces of the North during the Korean War - expectedly found himself in a position to settle the debt. To do so, however, he would have to defect. Could he do it?
Art and Cover by - Keith Page 
Publishing History
Edit
First published as no 4403 in July 2011.
Korean War commemoration issue.
Ad blocker interference detected!
Wikia is a free-to-use site that makes money from advertising. We have a modified experience for viewers using ad blockers

Wikia is not accessible if you've made further modifications. Remove the custom ad blocker rule(s) and the page will load as expected.