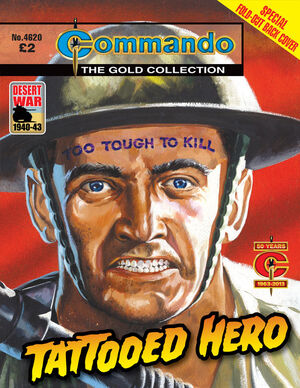 Back Cover Summary
Edit
The British patrol deep in the desert could hardly believe their eyes when they saw the tattooed sergeant.
He was lurching and staggering across the burning hot sand in the last stages of exhaustion - and there on his brow, tattooed a vivid purple, were four words - "Too tough to kill."
How true those words turned out to be, for Sergeant Harry Tyler had the guts to turn round and search the desert to find again the enemy who had tried to make him look a fool before his friends - and the last grim laugh was Harry's.
Creators
Edit
Story by Eric Hebden
Art by Cueto
Cover by Ken Barr
Publishing History
Edit
First published as no 58 in February 1963. Latest edition published as no 4620 in July 2013.
Part of "The Gold Collection".
No 4620 includes:
Special fold out back cover with textless Ken Barr cover
Into Action feature featuring the Willys Jeep
Part 55 of the Commando File - January - June 2013.