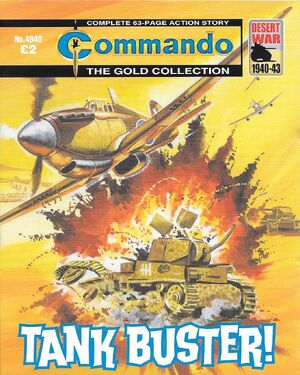 Back Cover Summary
Edit
Two old tanks - knocked out Italian tanks whose guns still worked, and were trained on the prison camp fence - these and some vicious strands of barbed wire were what stood between a crowd of desperate British prisoners and freedom.
Captain Al Kelly and Lieutenant Pete Smith reckon there was a fighting chance of escaping - and that was all these two desert fighters asked....
Publishing History
Edit
First published as no 164 in May 1965. Latest edition published in August 2015.
Part of "The Gold Collection" series.
Ad blocker interference detected!
Wikia is a free-to-use site that makes money from advertising. We have a modified experience for viewers using ad blockers

Wikia is not accessible if you've made further modifications. Remove the custom ad blocker rule(s) and the page will load as expected.