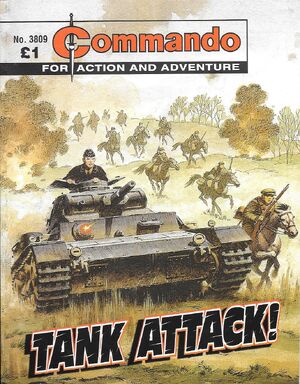 Back Cover Summary
Edit
In 1938, the German Panzer Mark Three tank was one of the most impressive fighting vehicles the world had seen and the Japanese army were keen to get their hands on one. It seemed their prayers were answered when Germany sent a Mark Three on loan to their allies in the east.
Then the tank was diverted to Manchuria, and it was caught up in the war between Chinese nationalist guerrillas and the Japanese invaders - the perfect opportunity to show just what the mighty Panzer could do!
Publishing History
Edit
First published as no 3809 in April 2005.
Inside front cover feature - Flypast - Canadian CC 106 "Yukon" (Art by Ian Kennedy)
Inside rear cover feature - Tank Killers of the Second World War - Panzerwurfmine (Art by Gordon Livingstone
Ad blocker interference detected!
Wikia is a free-to-use site that makes money from advertising. We have a modified experience for viewers using ad blockers

Wikia is not accessible if you've made further modifications. Remove the custom ad blocker rule(s) and the page will load as expected.