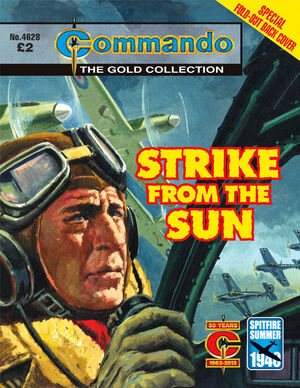 Back Cover Summary
Edit
Out of the glaring sun they swooped, these messengers of death, to smash great gaps in the formations of German bombers that swarmed over England. And leading them was one of the greatest Spitfire pilots of all time - a man of iron will and brute courage. Boldness, daring, strength flowed from him into those who flew at his wing-tips. When he led…the squadron was invincible.
Story by Roger Clegg
Art by Peter Ford
Cover by Ferraz.
Publishing History
Edit
Published April 1963 as issue 64. Republished August 2013 as issue 4628
Editor's Note
Edit
It's one thing to be able to draw complete aircraft, quite another to draw them disintegrating, but Peter Ford handles both situations very well indeed. So much that he has time for a little fun on Page 19 and pushes the envelope on page 51.
The basic story line was also used for Zero Smasher
Part of "The Gold Collection" series.