Back Cover Summary
Edit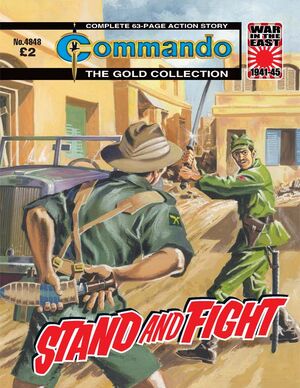 Perched high among the girders of the bridge spanning the jungle river, Private Dan Neal carefully aimed at the explosives charge lashed to the bridge supports. He knew that if this bridge wasn't blown, the Japanese would pour over it, massacring any British troops who stood in their way. And if it was blown up, Dan knew he would go sky high with it.
His trigger finger took the first pressure, then began the slow steady squeeze…
Story by N. Allen
Art and cover by Gordon Livingstone
Publishing History
Edit
First published as no 467 in April 1970. Republished as no 1343 in August 1979. Latest edition published as no 4848 in September 2015.
Part of "The Gold Collection" series.
Ad blocker interference detected!
Wikia is a free-to-use site that makes money from advertising. We have a modified experience for viewers using ad blockers

Wikia is not accessible if you've made further modifications. Remove the custom ad blocker rule(s) and the page will load as expected.