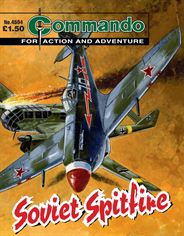 Back Cover Summary
Edit
Paul Daly was a Spitfire pilot - a pretty good one as the DFC ribbon he wore attested. But being a fighter pilot isn't like being, say, an accountant. No, it's a risky business and all too soon a Luftwaffe shell put paid to his flying when it smashed into his knee. Though part of him was glad to be out of danger, another part longed to get back in a cockpit once more, though he didn't think he'd have to travel to Russia to do it.
Story - Mac Macdonald
Art - Carlos Pino
Cover - Carlos Pino
Publishing History
Edit
First published as no 4504 in June 2012.
Ad blocker interference detected!
Wikia is a free-to-use site that makes money from advertising. We have a modified experience for viewers using ad blockers

Wikia is not accessible if you've made further modifications. Remove the custom ad blocker rule(s) and the page will load as expected.