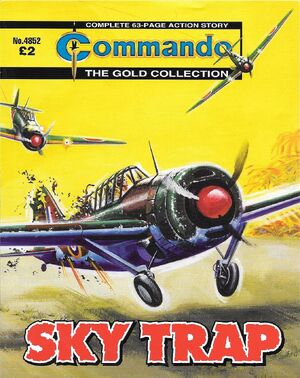 Back Cover Summary
Edit
To the pilots of Jim Ryan's fighter squadron, Flight Lieutenant John Bright was the bloke who brought them supplies in his Dakota. He had a cushy number, while they were fighting off swarms of Japanese planes in their out-classed Brewster Buffaloes.
Then Jim Ryan was posted away. The squadron was dog-tired and depressed, battling against heavy odds without rest. They desperately needed a real ace as new Squadron Leader.
Guess who they got? The bloke who flew the Dakota!
Publishing History
Edit
Published November 1968 as issue 366. Republished April 1977 as issue 1119. Republished October 2015 as issue 4852.
Part of "The Gold Collection" series.
Deputy Editor's Comments
Edit
Issue 4852
Although our hero, Flight Lieutenant John Bright, has a fair amount of bureaucracy to fight, thankfully there is a bountiful supply of aerial action too. This is perfectly encapsulated by Ken Barr's dynamic cover battle between a couple of Japanese Zeros and a Brewster Buffalo.
Not as highly regarded as the Supermarine Spitfire or as famous as the Hawker Hurricane, the American-built Buffalo is seen here as a stubby, rather awkward alternative to the aforementioned, much more appealing aircraft. One thing's for certain, though, there's no doubt that Barr and interior artist Auraleon do an amazing job of illustrating them.