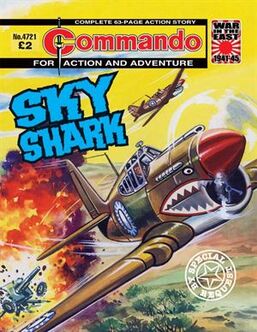 Back Cover Summary
Edit
The Japanese made a big mistake the day their bombs wrecked Tony Grant's transport plane. For they left Tony stranded on a Burmese airfield with a bunch of wild, undisciplined American pilots and their Curtiss fighters.
So what happened? Tony joined the Yanks and gave them some new ideas on how to win the war. Soon the very sight of these planes was enough to make the toughest Japanese quake in his boots.
Story by - Gordon Brunt
Art By - Sandy James
Cover - Porto
Publishing History
Edit
First published as no 451 in January 1970. Reprinted as no 1291 in February 1979. This edition published July 2014.
Part of the "By Special Request" season.
Ad blocker interference detected!
Wikia is a free-to-use site that makes money from advertising. We have a modified experience for viewers using ad blockers

Wikia is not accessible if you've made further modifications. Remove the custom ad blocker rule(s) and the page will load as expected.