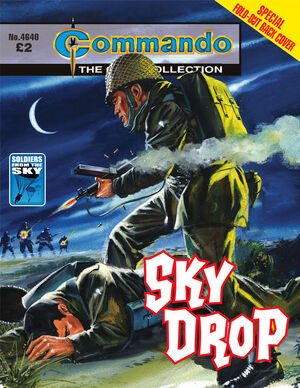 Back Cover Summary
Edit
Just say the word "Salerno" to a British soldier - and watch his eyes. You'll see a sudden pride shine in them…for Salerno was the blood bath of the invasion of Italy, a bullet-torn beach-head that made every man who even landed on it a hero.
Here is their glorious story.
Introduction by Calum Laird, Editor
Edit
Like the decade in which it was conceived, this story from the Sixties certainly swings along. In places it crackles forward with high-speed action then it swings right back to a walking pace. That that is very much the experience of men at war is undeniable and underlines that the first Commando creators had first-hand experience of conflict.
Alonso's black-and-white work is more suited to the breakneck speed of the action scenes but he accomplishes himself well elsewhere with faces bang full of character. Ken Barr's brooding cover is simply classic 60s fare.
So, save yourself the cost of a Tardis and travel back in time with us. Read on.
Story by Bingley
Art by Alonso
Cover by Ken Barr
Publishing History
Edit
Printed April 1963 as issue 71. Reprinted June 1971 as issue 555. Reprinted September 2013 as issue 4640.