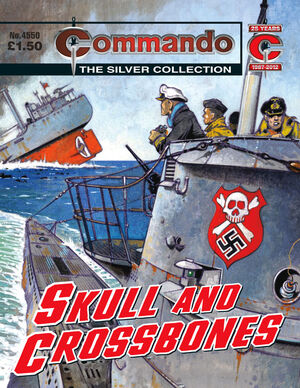 Back Cover Summary
Edit
Most U-boat captains were honourable men, but not this one. As his submarine pulled away from the burning hulk of the British ship he broke one of the rules of warfare - he machine-gunned the defenceless men in the water.
Those sailors who survived would never forget the emblem on the side of that U-boat…a red shield with a skull and crossbones
Publishing History
Edit
First published as no 2127 in October 1987. Republished as no 4550 in November 2012.
Part of "The Silver Collection" series.
Ad blocker interference detected!
Wikia is a free-to-use site that makes money from advertising. We have a modified experience for viewers using ad blockers

Wikia is not accessible if you've made further modifications. Remove the custom ad blocker rule(s) and the page will load as expected.