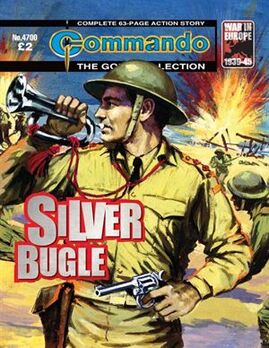 Back Cover Summary
Edit
This is the story of Sam Curtis, light infantry commander, of the silver bugle that went with him to war, and of the fighting tradition that began nearly two centuries before, with the first raid of the light "Bobs" on the enemy-held island of Walcheren, and the day a dreadful curse fell on the Domburg windmill…
Story by - Eric Hebden
Art by - Sostres
Cover by - Alvaro
Publishing History
Edit
First published as no 137 in October 1964. Reprinted as no 711 in January 1973. This edition published in April 2014.
This issue is part of "The Gold Collection" series.
Originally titled "Short Step Into Danger".
Orignal strapline on no 137 cover "Something about its call made men fight like demons!"
Ad blocker interference detected!
Wikia is a free-to-use site that makes money from advertising. We have a modified experience for viewers using ad blockers

Wikia is not accessible if you've made further modifications. Remove the custom ad blocker rule(s) and the page will load as expected.