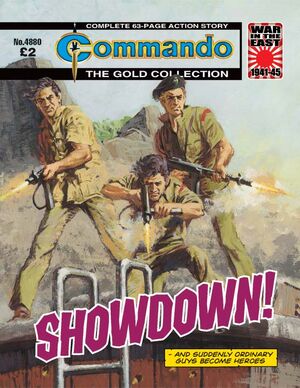 Back Cover Summary
Edit
Everybody had thought a lot of Inspector Harry Andrews of the Malayan Police. He was a real man, all guts. Pity he had been captured and probably killed by the Japanese when the invasion over-ran his outpost. He'd put up quite a fight, though.
Then, there was his brother, Colin - just a war correspondent, not a fighting soldier. He'd never be half the man Harry was, they said. Even though he got himself on a desperate mission to the district in Malaya where his brother had disappeared…but they didn't really know Colin Andrews…
Publishing History
Edit
First published as no 227 in September 1966. Latest edition published as no 4880 in January 2016.
4880 part of "The Gold Collection" series.
Ad blocker interference detected!
Wikia is a free-to-use site that makes money from advertising. We have a modified experience for viewers using ad blockers

Wikia is not accessible if you've made further modifications. Remove the custom ad blocker rule(s) and the page will load as expected.