Back Cover Summary
Edit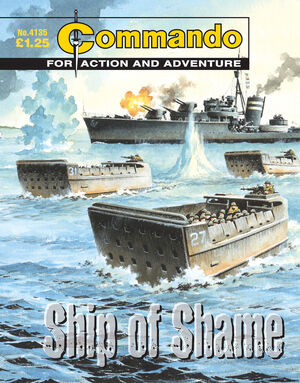 It should have been a proud day for Paul Kent when he took charge of HMS Kelvington. It was the command he had dreamed of.
But now the dream was a nightmare, for he had inherited a mutinous crew, a second-in-command he couldn't rely on, and a ship with a reputation for flunking in action. All in all a ship of shame.
Story by Ian Clark
Art by Peter Foster
Cover by Ian Kennedy
Publishing History
Edit
First published as no 2501 in September 1991. Latest edition published as no 4135 in September 2008.