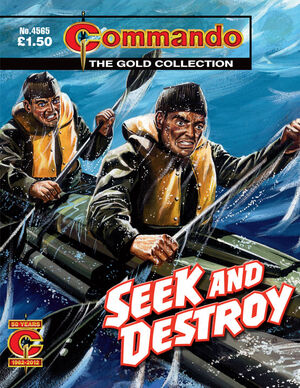 Back Cover Summary
Edit
Here is a special breed of soldier…
His weapons:
a 2-edged dagger -
a sub machine gun -
an automatic pistol -
a strangling cord…
His supplies:
Maybe a couple of bars of chocolate, a little water.
His duties:
He is a trained parachutist, Sniper, canoeist and judo expert. A man who, hopelessly outnumbered, can exist and fight behind enemy lines, who will seek and destroy his objective at all costs.
His life expectancy:
48 hours, if he is lucky.
This soldier is a…
COMMANDO
In this book is his story…
Publishing History
Edit
First published as no 53 in January 1963. Republished as no 4565 in January 2013.
Part of "The Gold Collection" series.
Ad blocker interference detected!
Wikia is a free-to-use site that makes money from advertising. We have a modified experience for viewers using ad blockers

Wikia is not accessible if you've made further modifications. Remove the custom ad blocker rule(s) and the page will load as expected.