Back Cover Summary
Edit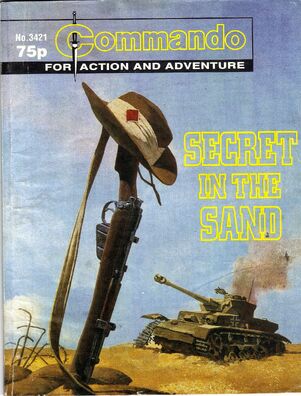 A German safe lies buried in the North African sand, marked by a rifle and an Australian hat. Only four men know its exact location . . . Corporal Terry Burnside and his three mates, but not even they know what it contains.
Who will be the first to find the answer to the secret in the sand . . . the allies or the Germans?
Creators
Edit
Story by -
Art by - Keith Page 
Cover by - Tubaro
Publishing History
Edit
First published as no 3421 in April 2001.
Inside front cover feature - Air Power Between the Wars - PzL 24 (Art by Ian Kennedy)
Inside rear cover feature - Tracks and Wheels Quiz no 3
Ad blocker interference detected!
Wikia is a free-to-use site that makes money from advertising. We have a modified experience for viewers using ad blockers

Wikia is not accessible if you've made further modifications. Remove the custom ad blocker rule(s) and the page will load as expected.