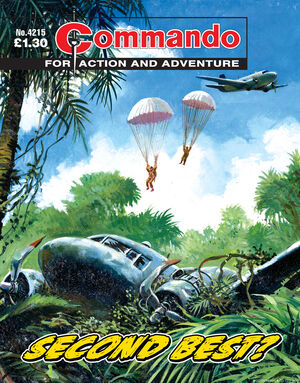 Back Cover Summary
Edit
Bill and Johnny King were twins, but Bill was always that much better at any sport you cared to mention. So Johnny learned to live in his brother's shadow. The same thing happened when war threatened. Both were dead keen to fly, but it was Bill who qualified as a pilot while Johnny was ruled out on medical grounds. Yes, Bill was certainly destined for glory, but it was what Johnny could do one dangerous day which would decide which of the twins would survive... if either!
Creators
Edit
Story by Bernard Gregg[1]
Art and cover by Manuel Benet
Publishing History
Edit
First published as no 2584 in July 1992. Republished as no 4215 in July 2009.
References
Edit