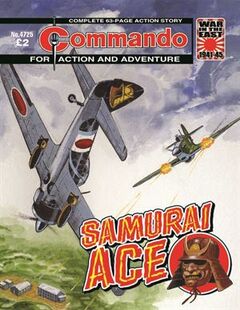 Back Covery Summary
Edit
"Tally-Ho! Bandits!" These might not have been the exact words on the lips of Lieutenant Azuma Takata's lips when he threw his Nakajima Ki-43 fighter into a dogfight but the spirit of the warrior within him was exactly the same as that which drove the RAF men whose battle-cry it was.
What he never imagined that he would have to turn that fighting spirit against his own side to prove he was indeed a…
SAMURAI ACE
Publishing History
Edit
First published in July 2014 as no 4725
Ad blocker interference detected!
Wikia is a free-to-use site that makes money from advertising. We have a modified experience for viewers using ad blockers

Wikia is not accessible if you've made further modifications. Remove the custom ad blocker rule(s) and the page will load as expected.