Back Cover Summary
Edit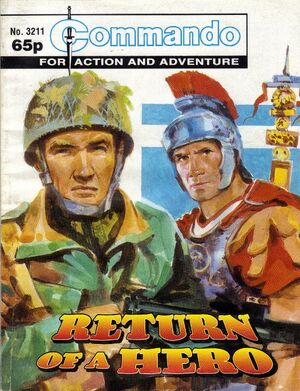 Tough paratroop commander Pete Dobson didn't believe in superstition. That is, until he was sent on a dangerous mission into the heart of enemy territory.
Throughout the whole strange affair he felt as if something from the past was controlling his every move.
Could it be that history was repeating itself?
Creators
Edit
Story by ?
Art by ?
Cover by ?
Publishing History
Edit
First published as no 1914 in July 1985. Latest edition published as 3211 in February 1999.
No 3211 contains:
Inside front cover feature - Whirly Birds, helicopters past and present, Mil Mi-4 "Hound" Soviet Union 1952. (Ian Kennedy art)
Ad blocker interference detected!
Wikia is a free-to-use site that makes money from advertising. We have a modified experience for viewers using ad blockers

Wikia is not accessible if you've made further modifications. Remove the custom ad blocker rule(s) and the page will load as expected.