Back Cover Summary
Edit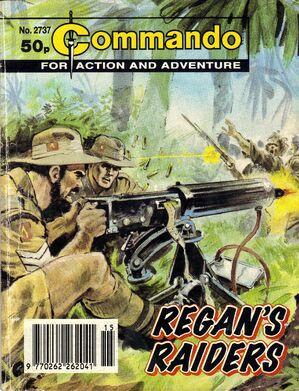 Raw recruits Billy Cooper and Ray Johnson were part of an Australian militia unit which broke and ran during a Jap attack. Their shamed burned deep but were determined to show they were not cowards.
They got their chance when they were posted to a new unit, but the man they had to prove themselves to was Sergeant Mick Regan, the leader of one of the toughest bands of jungle fighters ever - Regan's Raiders
Creators
Edit
Story by -
Art by -  
Cover by -
Publishing History
Edit
First published as no 2737 in February 1994.
Published in the anthology ANZACs At War (783 pages, August 2007, ISBN 1-84442-059-0).
Inside cover feature - Commando Weapons File: Modern Sub-machine guns - Beretta Model 12S and Model 61 Skorpion
Inside back cover feature - Flypast no 119 Avia B534-IV (art by Ian Kennedy)
Ad blocker interference detected!
Wikia is a free-to-use site that makes money from advertising. We have a modified experience for viewers using ad blockers

Wikia is not accessible if you've made further modifications. Remove the custom ad blocker rule(s) and the page will load as expected.