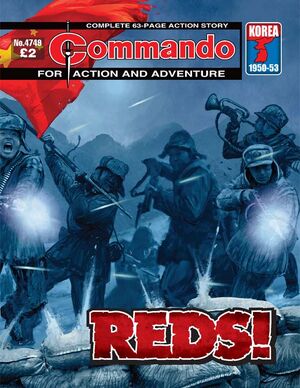 Back Cover Summary
Edit
Young Joe Cooper was a convinced socialist. Sent to serve in the Korean War, the idealistic National Serviceman hated the idea that he might have to kill the Chinese communists he thought of as fellow socialists.
To keep his conscience be clear, he decided only to shoot to wound, not to kill.
Faced with the grim reality of battle, though, could he stick to his convictions in the desperate struggle to survive?
Creators
Edit
Story by - Ferg Handley
Art by - Olivera 
Cover by - Janek Matysiak 
Publishing History
Edit
First published as no 4749 in October 2014.
N/A
Ad blocker interference detected!
Wikia is a free-to-use site that makes money from advertising. We have a modified experience for viewers using ad blockers

Wikia is not accessible if you've made further modifications. Remove the custom ad blocker rule(s) and the page will load as expected.