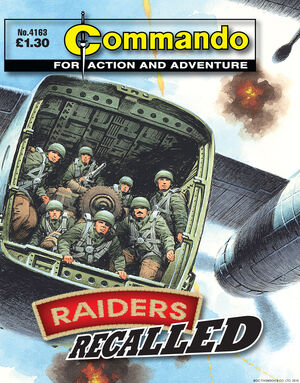 Back Cover Summary
Edit
THEY'RE BACK!
After completing daring and dangerous missions from North Africa to Germany during World War II, the men of the Special Raiding Force retired in 1945. Civilian life did not sit well with them, however, and especially not with the unit's tough leader, Scotsman Captain Jimmy Ramsey.
So, when the Korean War exploded in 1950 and they were recalled by the top brass, Jimmy Ramsey jumped at this final chance to see some more action. And his team jumped too.
However, this conflict would prove to be more dangerous than anything Ramsey's Raiders had experienced before...
Story by Ferg Handley
Art by Keith Page
Cover by Ian Kennedy
Publishing History
Edit
First published as no 4163 in January 2009.
Part of the "Ramsey's Raiders" series.
Inside front cover Ramsey's Roll Call artwork
Inside rear cover Flying School - Training Craft Through the Years. This issue Hawker Hunter T7.
Ad blocker interference detected!
Wikia is a free-to-use site that makes money from advertising. We have a modified experience for viewers using ad blockers

Wikia is not accessible if you've made further modifications. Remove the custom ad blocker rule(s) and the page will load as expected.