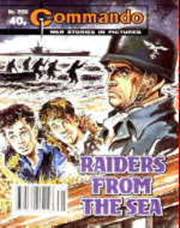 Back Cover Summary
Edit
Tommy Bell was heartbroken when he was evacuated from his blitzed home city of Glasgow. To him the countryside was dull - nothing ever happened. But Adolf Hitler gave an order that was to turn Tommy's new home into a battle-torn hot spot. Crack German troops mounted a raid to capture a British secret weapon and all that stood between them and success were a few regular soldiers, the local Home Guard - and Tommy Bell!
Creators
Edit
Story by ?
Art and cover by Gordon Livingstone
Publishing History
Edit
First published as no 2550 in March 1992. Latest edition published as 4247 in November 2009.
Ad blocker interference detected!
Wikia is a free-to-use site that makes money from advertising. We have a modified experience for viewers using ad blockers

Wikia is not accessible if you've made further modifications. Remove the custom ad blocker rule(s) and the page will load as expected.