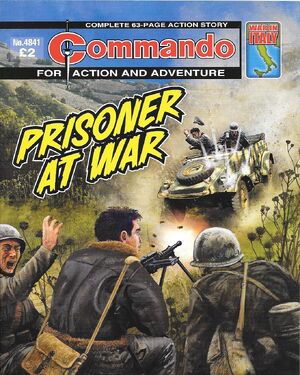 Back Cover Summary
Edit
When his P47 Thunderbolt was shot down over Sicily, Major Mike Dante of the USAAF was captured by some passing Italian infantrymen. However, when Italy surrendered to Allied forces soon after, this particular unit were having none of it. They decided to wage their own guerrilla war against a vicious German panzer grenadier squad who had killed one of their comrades.
Still technically a prisoner, Mike knew that a fierce battle lay ahead ... one that he felt honour-bound to get involved in.
Publishing History
Edit
First published as no 4841 in August 2015.
Inside front cover feature Barbarossa! - Infantry weapons.
Ad blocker interference detected!
Wikia is a free-to-use site that makes money from advertising. We have a modified experience for viewers using ad blockers

Wikia is not accessible if you've made further modifications. Remove the custom ad blocker rule(s) and the page will load as expected.