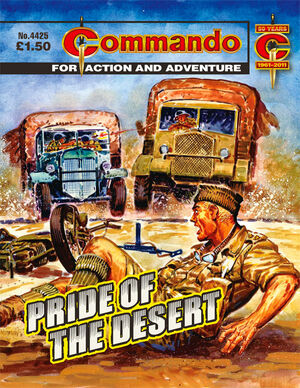 Back Cover Summary
Edit
What do you get if you send a marauding, aristocratic "Toffs Brigade" on a race against time to recover their stolen regimental silver?
You get a rip-roaring adventure, that's what!
And if that's not enough, don't forget to add a battered but trusty Bedford QL lorry nicknamed "Queenie"…better known as the
PRIDE OF THE DESERT
Publishing History
Edit
First published as no 4425 in September 2011.
Ad blocker interference detected!
Wikia is a free-to-use site that makes money from advertising. We have a modified experience for viewers using ad blockers

Wikia is not accessible if you've made further modifications. Remove the custom ad blocker rule(s) and the page will load as expected.