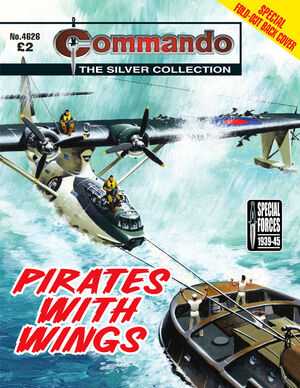 Back Cover Summary
Edit
Doug Robb and the crew of his flying boat were good blokes, well-trained, steady in action. They did their dangerous job and they did it well.
Then they met Kevin Smythe-Black and his crazy gang of Marine Commandos. That was the day that changed Doug's airmen into…
PIRATES WITH WINGS
Creators
Edit
Story by R.A Montague
Art by Gordon Cam Kennedy
Cover by Ian Kennedy
Publishing History
Edit
First published as no 878 in October 1974. Republished as no 2172 in April 1988. Latest edition published as no 4626 in August 2013.
Part of "The Silver Collection".
No 4626 includes:
Special fold out back cover with textless Ian Kennedy cover
Into Action feature featuring the Catalina