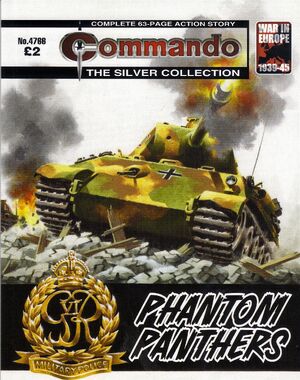 Back Cover Summary
Edit
They did not exist as far as the Allies were aware, four lethal Panther tanks hidden away in a secret lair from which they would attack with devastating force when the time was right.
Yet the British had a phantom of their own with which to hit back . . . though even they did not know it!
Creators
Edit
Publishing History
Edit
First published as no 2264 in March 1989. Latest edition published as no 4766 in December 2014.
No. 4766:
Part of "The Silver Collection" series.
Ad blocker interference detected!
Wikia is a free-to-use site that makes money from advertising. We have a modified experience for viewers using ad blockers

Wikia is not accessible if you've made further modifications. Remove the custom ad blocker rule(s) and the page will load as expected.