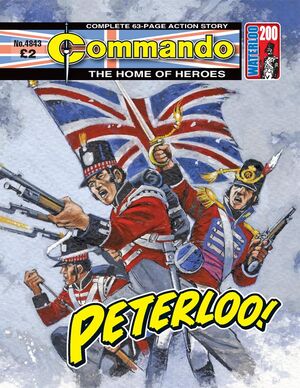 Back Cover Summary
Edit
Thomas Hatfield decided that a farmer's life wasn't him and decided to join his local regiment, the Lancashire Light Foot.
Soon he was plunged into the tumultuous events of the Napoleonic Wars. He was sickened by the villainy of a crooked sergeant and his cronies, in addition to the threat from the opposing French army at the battle of Waterloo.
After massacre at St. Peter's Field, Manchester - which became known as 'Peterloo' - the young man wondered if a life in England was what he really wanted…
Publishing History
Edit
First published as no 4843 in Septmeber 2015
Part of the Waterloo 200 series.
Ad blocker interference detected!
Wikia is a free-to-use site that makes money from advertising. We have a modified experience for viewers using ad blockers

Wikia is not accessible if you've made further modifications. Remove the custom ad blocker rule(s) and the page will load as expected.