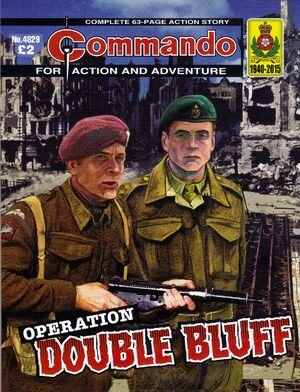 Back Cover Summary
Edit
After seeing his fellow Paratroop squad soldiers brutally killed by Germans in enemy-occupied Holland - and being shot himself and left to die - Lieutenant Ralph Loach was a man determined to settle the score.
Newly transferred to war-battered Berlin with the Intelligence Corps, could Ralph put asied his quest for revenge long enough to let him help his new colleagues find the sadistic S.S. officer responsible?
Publishing History
Edit
First published as no 4829 in July 2015.
Inside front cover feature - History of the Intelligence Corps.
Ad blocker interference detected!
Wikia is a free-to-use site that makes money from advertising. We have a modified experience for viewers using ad blockers

Wikia is not accessible if you've made further modifications. Remove the custom ad blocker rule(s) and the page will load as expected.