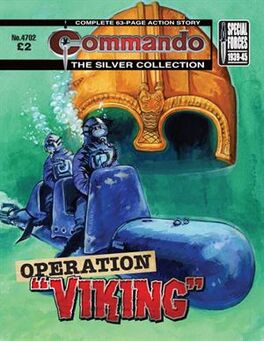 Back Cover Summary
Edit
Norway, a proud country, lay under Nazi rule. Slowly signs of resistance began to show, the beginning of a bitter war against the invaders.
And although the defiant days of the marauding Vikings of old were long past, it was said that in one remote fiord the battle was being waged to the limit by the ghost of a Viking berserker many centuries dead…
Publishing History
Edit
First published as no 2313 in September 1989. Reprinted as no 3875 in January 2006. No. 4702 published in April 2014.
No. 4702:
part of "The Silver Collection" series.
Ad blocker interference detected!
Wikia is a free-to-use site that makes money from advertising. We have a modified experience for viewers using ad blockers

Wikia is not accessible if you've made further modifications. Remove the custom ad blocker rule(s) and the page will load as expected.