Back Cover Summary
Edit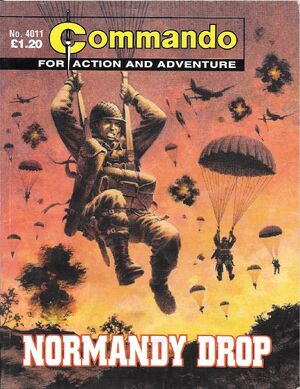 June, 1944. After the tumultuous D-Day landings in Normandy, newly-promoted Captain Matt Parker of the U.S. Airborne paratroopers found himself wildly off-target, and cut off from the rest of the American forces.
Now, he and his decimated unit were holed up in a tiny French village, poised to make a desperate stand against advancing Werhmacht infantry and armour.
If all this wasn't bad enough, Matt was in the throes if a fever that threatened his life just as surely as any German bullet. Would he survive his first, and possibly, last command?
Publishing History
Edit
First published as no 4011 in June 2007.
4011:
Inside front cover feature - Samurai - Gunsen Folding War Fan (art by Keith Page)
Inside rear cover feature - Plane Spotting Quiz
Ad blocker interference detected!
Wikia is a free-to-use site that makes money from advertising. We have a modified experience for viewers using ad blockers

Wikia is not accessible if you've made further modifications. Remove the custom ad blocker rule(s) and the page will load as expected.