Back Cover Summary
Edit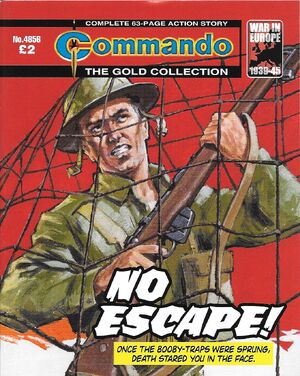 All along the British lines the terrifying news spread like wildfire.
Brave men trembled. "He's in our area. The Engineer of Death is here!" For they knew that once "the engineer" had set his fiendish secret traps, no one who fell into them would ever walk away.
That's when an unlikely hero volunteered, vowing to beat him at his own game. A skinny little genius with glasses, whose name was Percy Potts…
Story by Bounds
Art by C.T. Rigby
Cover by Davis
Publishing History
Edit
First published as no 194 in December 1965. Latest edition published in October 2015.
Part of "The Gold Collection" series.
Ad blocker interference detected!
Wikia is a free-to-use site that makes money from advertising. We have a modified experience for viewers using ad blockers

Wikia is not accessible if you've made further modifications. Remove the custom ad blocker rule(s) and the page will load as expected.