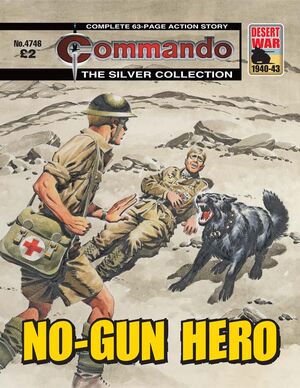 Back Cover Summary
Edit
When Johnny Peace was called up to the army he refused to fight, refused to kill anyone. And he was branded a coward.
So he went to war as a medical orderly. Not for him guns or grenades - his only weapons were his medical satchel and his courage.
A coward? Not Johnny Peace. There was probably never a braver man in the British Army!
Creators
Edit
Story by - Gregg
Art by - Boluda 
Cover by - Ian Kennedy 
Publishing History
Edit
First published as no 965 in September 1975. Republished as no 2299 in August 1989. Latest edition printed as no 4746 in September 2014.
No 4746:
part of "The Silver Collection" series