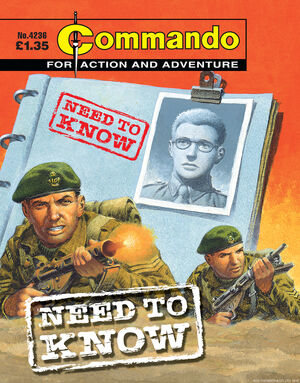 A crack British unit was on a secret mission in German-occupied Greece. This operation was top secret, NTK - Need To Know. Then disaster struck. The officer in charge was killed and the only other person who knew their objective lost his memory in the same attack. With the enemy on their trail, the team had to complete their vital task, and fast. If only they could work out what it was...We could tell you what it was but, yes, you've guessed, the details are need to know.
Story by Alan Hebden. Art by Ian Kennedy
Printed as issue 4236
Ad blocker interference detected!
Wikia is a free-to-use site that makes money from advertising. We have a modified experience for viewers using ad blockers

Wikia is not accessible if you've made further modifications. Remove the custom ad blocker rule(s) and the page will load as expected.